Mary Johnson's sculpture, "Max Rabitat," has attracted much photographic attention since first landing on 22nd Avenue NE across from the California Building.  On April 17, the social distancing mask was added.
Coordinated by NE Sculpture | Gallery Factory, "Max"  is a third entry on what will become the River First Gateway Sculpture Trail, along 22nd Avenue NE from Central to the Mississippi River, and along Marshall Street NE from roughly 18th Avenue to Lowry. Nearby in the yard at the California building are other public art pieces: Andrew MacGuffie's "Bon Chance" and Peyton Scott Russell's "Daskarone."
Other installations on the River First trail are the James Brenner sculptures that grace the Edison High School campus and Jackson Square Park across the street between Jackson Street and Monroe Street; and JROW (in the planning stages), between Jefferson and Washington Streets NE, at the Hook & Ladder apartments on Washington Street and 23rd Avenue, with numerous sculptures on the grounds.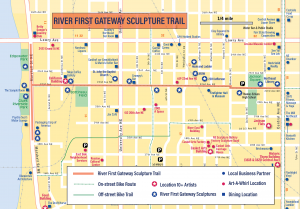 The sculptors commissioned at Hook & Ladder Apartments, all artists from Northeast Minneapolis, are Lisa Elias, L. John Andrew, James Brenner, Aaron Dysart and Peyton Scott Russell.
The sculptors, with the support of NE Sculpture | Gallery Factory, based at the Casket Arts building, are working with the City of Minneapolis and private property owners who would like to host works along this route.
For more information, call: 612-743-6664, northeastsculpture@gmail.com or
www.ne-sculpture.org
www.facebook.com/northeastsculpture
@northeastsculpture