NE-AD presents various forums, hearings, and panel discussions that examine pertinent issues in our community. All events are free and open to the public. Speakers and panelists include community leaders, arts activists, business owners, and elected officials.
Topics addressed to date:
Gentrification and Creative Sustainability.   
How do we grow the Arts District with thoughtful development?
How are elected officials accountable for maintaining and improving the Arts District for the artists, residents and other businesses?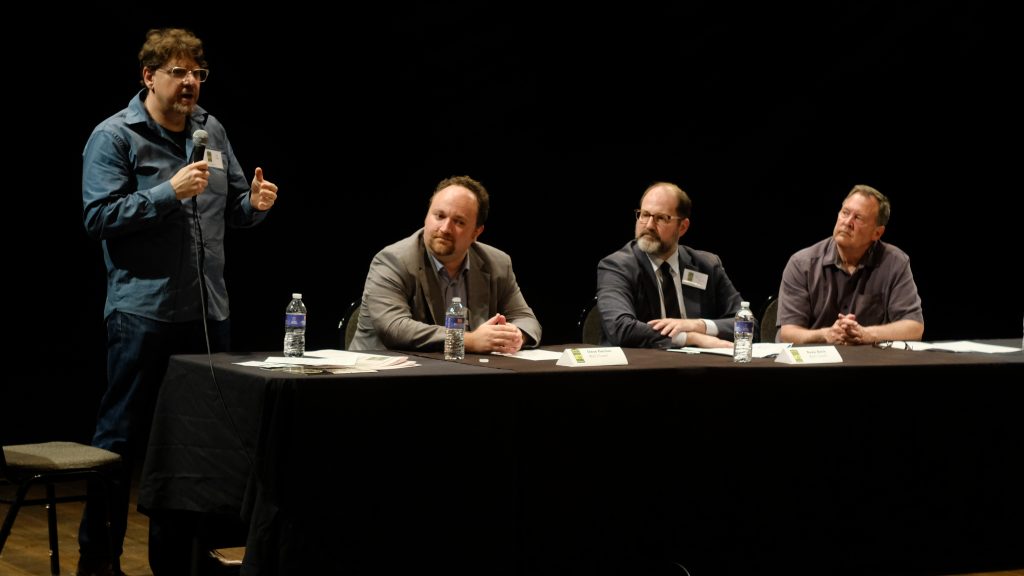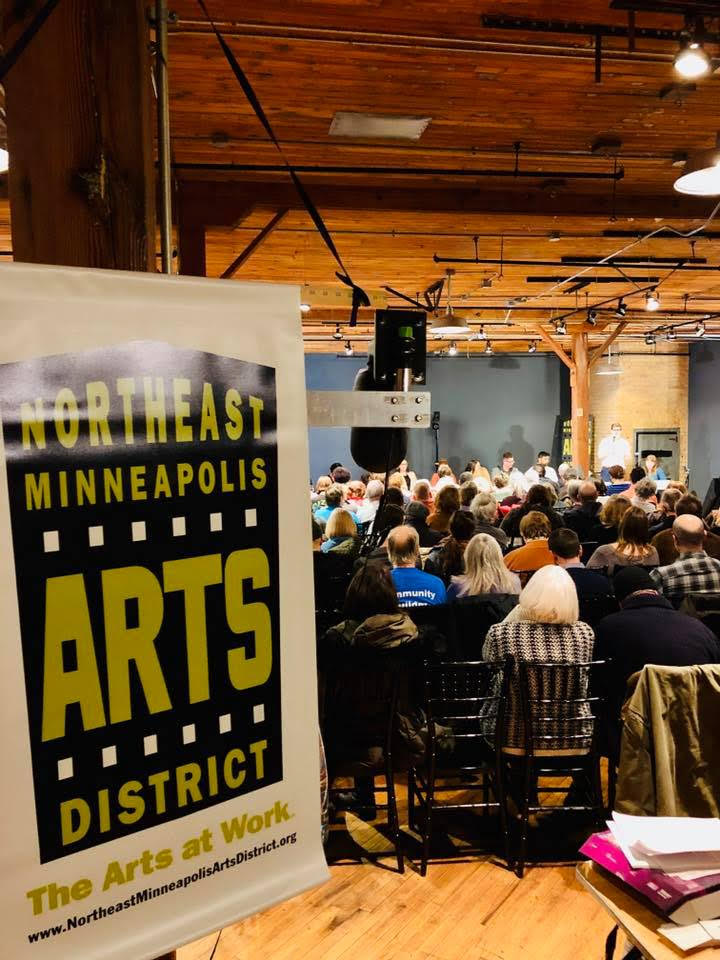 Candidate Forum for State Representative 60A – January 13, 2020
Following the death of beloved State Representative Diane Loeffler, several neighborhood organizations teamed up with the Northeast Minneapolis Arts District to hold a forum for the many candidates before the special primary election to fill her post. The standing room only crowd (225+) exceeded that of all other forums held during that contest. MCN6, which also provided the sound equipment, broadcast the forum to hundreds more. Attendees felt it was helpful in making up their minds in a crowded field. Sydney Jordan is our new 60A State Representative.
Minneapolis Council members and Mayor Forum – June 12, 2018
The Northeast Minneapolis Arts District (NE-AD), Northeast Minneapolis Chamber of Commerce, and the Ritz Theater hosted a forum Tuesday, June 12, 2018 at the Ritz Theater with elected officials. The forum was a follow up from the previous fall's candidate forums for city council and the Mayor's office. Now that new administration members have been in office about six months, we want to check in with Council Members Kevin Reich, Steve Fletcher and Mayor Jacob Frey. NE-AD and the Northeast Minneapolis Chamber of Commerce will reveal the data from the recent survey of artists in the arts community. The survey is meant to give us a snapshot of the arts community today to understand how we interact with the rest of Northeast.
"The Future of Arts and Culture in Minneapolis" was comprised of two Forums: City Council Candidate Forum October 16, 2017 and Mayoral Candidate Forum October 17, 2017
The Northeast Minneapolis Arts District Board of Directors hosts two public forums at the Ritz Theater to address how local government supports artists and helps to develop the arts and arts related businesses in Wards 1 and 3, particularly those in the Northeast Minneapolis Arts District. Open reception at Rogue Buddha Gallery following discussion and Q & A.
"Creative Sustainability Forum: The Next Step. It's Your Move." June 6, 2016
Say the word "Gentrification" and you'll get various reactions, from passive acceptance, to rebellious anger, to dollar signs. The Northeast Minneapolis Arts District (NE-AD) is at the tipping point, and we need to take action now. Over 100 residents, artists, and community leaders gathered at Solar Arts by Chowgirls for the NE-AD Board of Directors public hearing on Creative Sustainability. Informative—and at times lively—discussion yielded a number of critical issues.