When is a wall more than a wall? Through art, a community can make a utility shed or an outhouse into a symbol of themselves. The latest examples of this have popped up in three Northeast neighborhoods: Logan Park, Beltrami, and Northeast Park, the latter of which hosted a celebration unveiling the newly minted artwork adorning a bathroom facility on the far side of its baseball fields. These three neighborhoods collaborated to put together funding to commission new public art in their parks. The celebration on Nov. 6 featured live music, free pizza, and a chance to meet the artists who brought their artistry to the walls of our parks.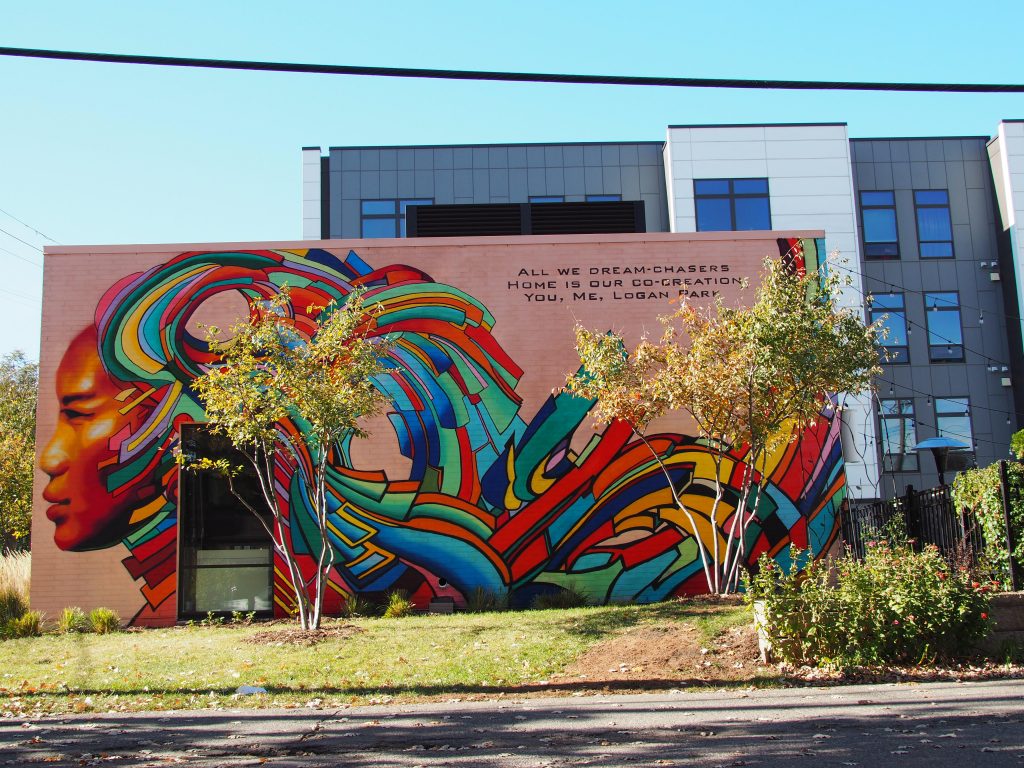 It was the "last good day of fall," according to several folks in attendance. The celebration kicked off as The Good Time Gals came rolling into the park atop the Bands on Vans mobile stage, their voices echoing through the lazy afternoon air.
The art in all three parks was created by the group Creatives After Curfew, a collective of artists based out of the Northrup King Building that came together in the wake of the murder of George Floyd in May 2020. Maiya Lea Hartman, Leslie Barlow, Silent Fox, Taylan De Johnette and their coordinator, Tricia Heuring, began making public art in during the civil unrest following Floyd's death. Their first works appeared on plywood barricades around George Floyd Square, four of which can now be found at their studio in Northrup King. They also have a mural at Stevens Square.
"We all came together making art in response to police brutality as a way to heal together through art that represents us and represents our communities," said Barlow. It was important to them that they used their talents to share images of joy and hope in public spaces that were accessible to everyone in the community.
Creatives After Curfew exists today as a collaboration to share skills and resources between artists seeking collaborative work. Before last year, some of the artists in CAC had never done a mural, but together, they learned how and built off of each others' skills. They want to carry that same energy forward to build a bigger and better community of artists in Northeast.
"It's not about how big of a project we could do [with limitless resources], but how many artists we could engage," said Barlow. Creatives After Curfew would love to someday be able to host classes or workshops where they could share resources with other artists.
For their work on the murals in Logan, Northeast, and Beltrami parks, Creatives After Curfew collaborated with other artists, including Tomasina Topbear of City Mischief, Claudia Valentino and Maria Robinson, all of whom were unable to make the Saturday celebration but were there in spirit.
Creatives After Curfew was tapped by the collective neighborhood organizations of Beltrami, Logan Park, and Northeast Park to paint these murals using park funding reserved for neighborhood amenities. Park Commissioner Chris Meyer helped to expedite the process before the funds expired, one of his final acts as commissioner before Billy Menz steps into his position after being elected Nov. 2. Menz spoke briefly at the celebration; Meyer prompted him to give an address after razzing him over his recent victory over such write-in candidates as "Darth Vader," and "Lizard People."
"Other communities are going to come to this park and see this," he said. "It's a reflection of who our community is. . .and we need way more public art like this in our parks."
Outside of the three murals commissioned by the trifecta of Northeast neighborhoods, the Logan Park Neighborhood Association funded another mural on the side of the Artspace Jackson Flats building, created by Jackson Flats residents Benjamin Wuest and Jess Zottola. Wuest is a 3D printer by trade, and converted a 3D image into 2D for this project. Zottola did most of the coloring work on the mural, and primarily works on pieces focusing on fluidity and motion. To them, public art creates an outlet for their community to express itself through the artists who are part of it.
Other artists residing in Jackson Flats contributed to the project as well, particularly Caley Vickerman, who reinvented a quote from a publication called "Over the Years at Logan Park" into the haiku that appears on the mural. Much like the artists at Creatives After Curfew, the artists of Jackson Flats wanted to create a dynamic piece that reflected aspects of the community, in this case, a description of the way the neighborhood used to be, reworked to describe the present. The original quote read, "We came to think of Logan Park as our second home. Here is where we went to meet our friends, to enjoy the many activities that were being offered to the community. Playing, sharing, growing, rich in dreams."
Wuest and Zottola said they would love to work on bigger murals in the future. This was their first time collaborating, and they were happy to find that their two very different art styles worked so well together.
"[This art] is a reminder that there's a community of support here, and the community is built on this" said Zottola. "It's a reminder to young artists to achieve the unattainable, that it's doable because others are doing it."
by Alex Schlee