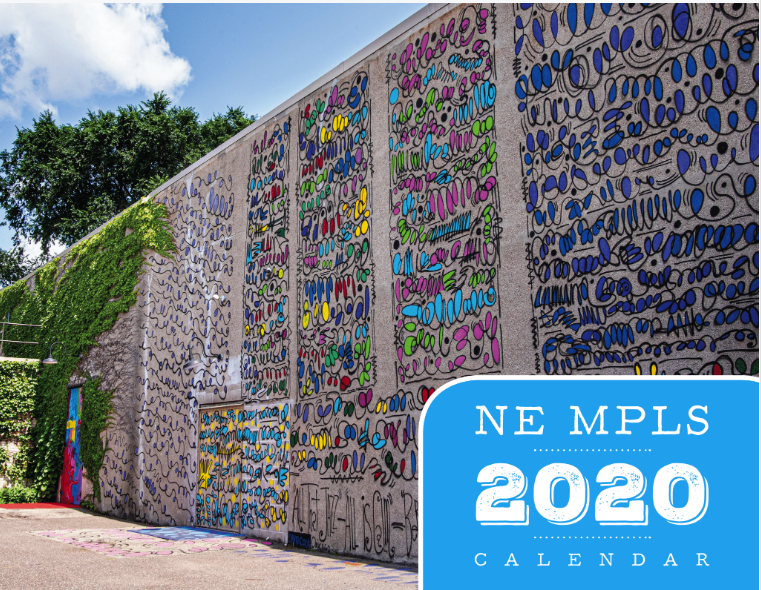 Kevin Cannon designed the calendar and gives us slices of the neighborhoods in his map on the back cover. List of neighborhoods, months, and artists, below.
December 2019 – Bottineau – August Schwerdfeger
January 2020 – Audubon Park – Commission by Damian Schaab
February – Mid-City Industrial – Allan Fix
March – Logan Park – August Schwerdfeger
April – Beltrami – Josh Mortenson
May – Holland – Mike Anderson
June – Saint Anthony East – Commission by Michele Combs
July – Sheridan – Mike Madison
August – Columbia Park – Josh Mortenson
September – Northeast Park – Brendan Kramp
October – Waite Park – Mark Peterson
November – Windom Park – Alexander Schlee
December – Saint Anthony West – Karen Kraco
January 2021 – Marshall Terrace – Karen Kraco
The 2020 Northeast Calendar's cover celebrates the visual, musical, theater, photographic and written arts that make up the Northeast Minneapolis Arts District. David Cook's mural on the side of the Ritz Theater interprets the sounds of Theater Latté Da's 2019-2020 season. Reporter Karen Kraco told the story of his "Notes" in the Northeaster newspaper and shared this photo with us.
The NE Calendar is supported by Northeast community businesses and organization. Logos below: